An ally to help you fuel growth.
The Scale This® team is fully committed to your success — we're always ready to roll up our sleeves and get into the trenches with you.
To start off, we'll figure out where you are and where you need to be. We'll then tailor our resources to fit your unique needs. With our blend of proven scaling techniques, custom toolkits and business leader access, we'll help you:
Move fast and respond quickly to market needs.

Tap into the resources you need to meet milestones.

Build internal advocacy.

Scale your ROI.

Reduce risks, cost and time to market.
Increase your competitive advantage and customer advocacy.
Allocate capital for maximum impact.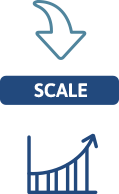 Casting
Framing
Scoping
Resource ecosystem
Innovation scorecard
Most valuable questions
Maximizing customer value
Minimizing solution complexity
Filtering
Building customer and leadership advocacy
Road mapping
Rapid customer pilots
Maximizing learning
Maximizing unnecessary complexity
Snowballing
1. We have the right project team

2. We have a new idea that solves a high value customer problem
3. The new idea is a good fit with the skills of our team


4. We have sized the market and the opportunity
5. We have secured the resources needed to create and test a minimum viable prototype


6. We have created an innovation scorecard that drives measurable outcomes at every stage

1. We have identified the internal and external resources we will need to bring the idea to market

2. We have identified the customers we will co-create with
3. We have developed the hypotheses we need to test


4. We have designed the experiments that will enable us to test those hypotheses

5. Minimum viable prototypes are ready

2. We have identified the customers we will co-create with
1. We have addressed feedback from paying customers on our prototypes

2. We have run pilots with key customers and have codified the insights
3. Our pilot customers have agreed to be advocates

4. We have identified 20 customers for scale up
5. We have a roadmap for sustainable differentiation versus competition through:
• Value proposition evolution
• Business model innovation
• Customer experience innovation
• Network innovation
• Channel innovation

2. We have run pilots with key customers and have codified the insights
1. Business models

2. Customer experiences